Let me begin this tutorial by saying I didn't invent the cupcake in a jar, totally didn't come up with concept, nothing like that at all! I'm also not being compensated or otherwise benefiting from any of the brands you may see mentioned, linked to, etc. I share because I'm nice like that
Hands DOWN the BEST EVER cupcakes in jars I hve EVER had are from Bangerang Cupcake in a Jar. Of course, the Tank Girl reference had me hooked but the delicious treats are just heaven in little jars. Totally premium and a total indulgence.
I don't consider myself a copycat or anything, but of course, I wanted to be able to eat cupcakes and yummy indulgent toppings in a convienient way, such as from a jar…I guess you could also just call it a parfait or a mini trifle or whatever…I call it YUM!!!
You will need…a jar (I like this preserves jar, it's nice looking)…2 regular size cupcakes…frosting(s)…canned pie filling, nutella, nut butters, fresh fruit, pudding…use your imagination…for this one I am using devil's food cupcakes, crunchy peanut butter, cream cheese frosting (rich and less sugary tasting than vanilla), and hazelnut spread.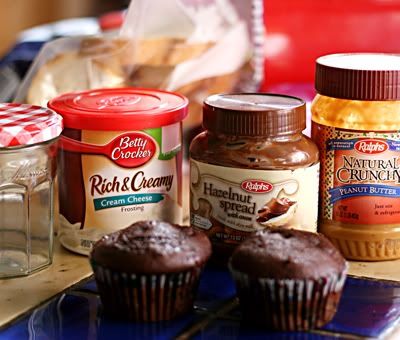 Break the cupcakes in half to make 4 cupcake layers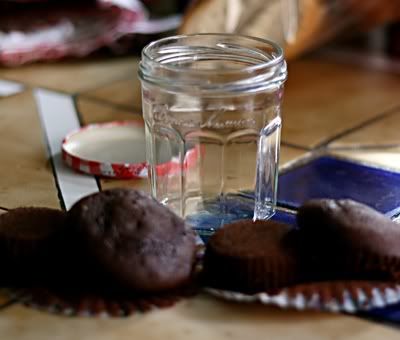 I totally cheat with cream cheese frosting. You can add a lot of things to it and *poof* instant custom frosting! Here I mixed a generous amount of cream cheese frosting and crunchy natural peanut butter. Leave them out to soften and mix well before you mix them together.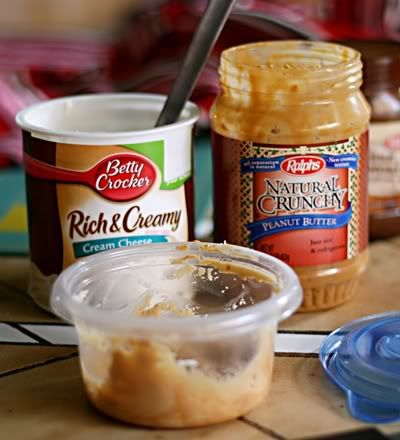 Put a top half of a cupcake in the bottom on the jar and smush it a little…I used a large spoon…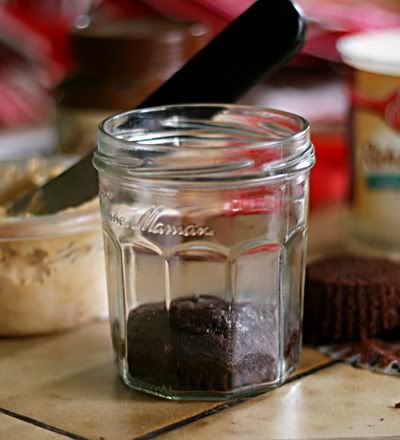 Top with peanut butter frosting and this one has a little dollop of hazelnut spread in the middle *surprise*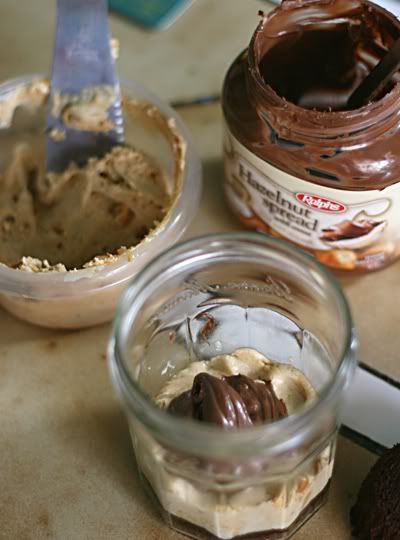 Use the two bottom halfs to make the middle cake layer. I broke mine apart and smushed them in…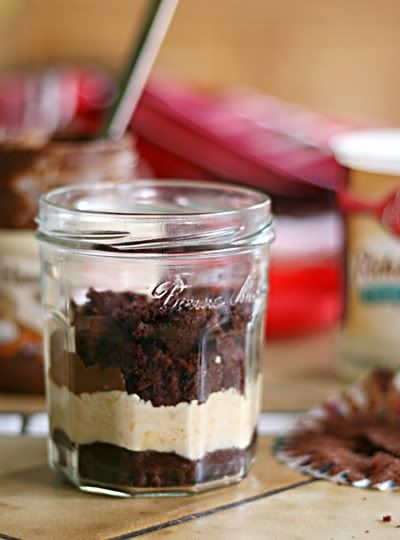 Add another layer of peanut butter frosting, hazelnut spread, then place the last cupcake top on…more frosting…more hazelnut spread…go ahead and press it down…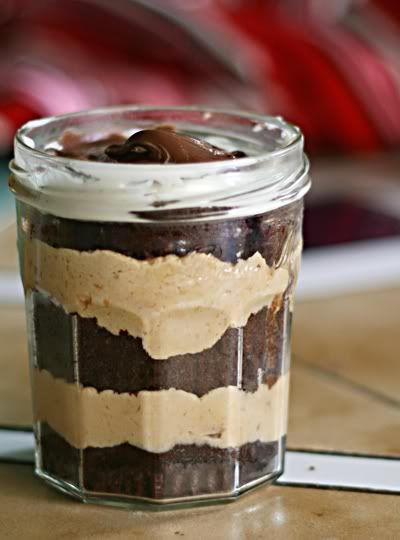 You can just put a lid on and put it in the fridge if you are eating it soon. Or you can put it in the freezer, even eat it partially thawed, mmmmmmm.
Experiment with different combinations of cake flavors and frostings or toppings. I think pudding would be delightful, like a mini banana cream pie…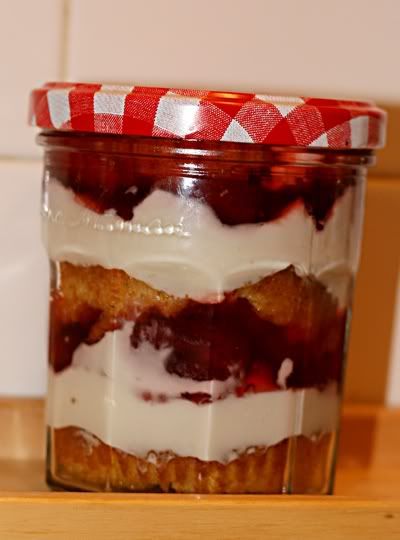 This one has lemon cake, canned strawberry pie filling and cream cheese frosting. It takes like a strawberry shortcake.